I was honored to attend the United State of Women Summit in Washington, DC. Five thousand women gathered in our nation's capital to celebrate the progress made throughout the Obama administration to improve the lives of women and girls here and around the world, and to showcase innovative solutions to the obstacles women and girls still face.
The invitation-only guest list was a who's who of activists, academics, journalists, public officials and business leaders who are all change-makers dedicated to building a better world. I cannot tell you how grateful and humbled I was to be among them.
 Five Thousand Women. Michele, Oprah, Gloria… and ME!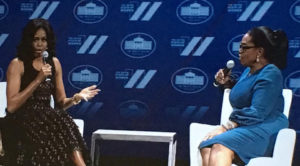 If anyone ever told me, way back when I was a teenager, that one day I would be invited to the White House to discuss issues facing women and girls I would've told them they were crazy. Having lost both my parents, my dad died when I was ten and my mother died when I was sixteen, I had all I could do to survive.
But I believe that God had a plan for my life and that everything that ever happened, didn't happen to me — it happened for me. Every challenge that I faced as a teen girl, every thought of unworthiness and shame, every moment of feeling like I wasn't good enough prepared me for the work I do today with teen girls.
My hard-earned lessons have become the foundational building blocks of my Unshakable Confidence System that teaches teen girls how to find their voice, step into their power and ultimately change the world.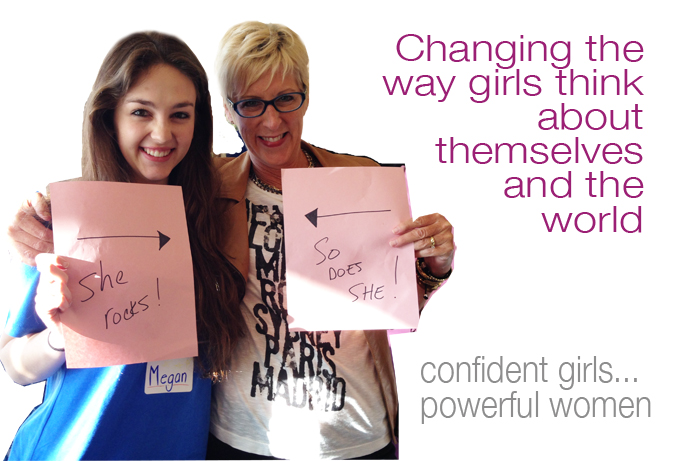 I BELIEVE
I believe that girls can change the world!
I believe… that within each of us lies the seeds of unlimited potential and greatness and it is our divine birthright to live a fabulous life.
I believe… with all my heart that we need to teach young women to look within to find their strength and confidence rather than looking externally for acceptance and validation.
I believe… fear of criticism is the biggest deterrent to many girls stepping into leadership roles, and therefore we must teach them how to be resilient and mentally tough to rise above the fray to heal the world.
I believe… that everything that ever happened to me in my childhood and teen years; death of both my parents, teen pregnancy, addiction – and overcoming all of it – divinely and uniquely prepared and qualified me to lead girls through the challenges they face today.
I believe… in my work and am so grateful to travel all over the country and to meet such amazing, confident girls & powerful women!
I believe… LOVE is the answer and that together we can change the world.
"By listening to the stirrings of our soul… and the whisperings of our own truth, we begin to shine our light and emerge as the person we were born to be." ~ Kathleen Hassan
Kathleen is a national expert on self-esteem and empowerment.
The journey from troubled teen to teen mentor and coach was a long, hard road to travel. But thankfully I learned to reach out and ask for help. I became a student of life and studied with some of the greatest teachers and mentors on the planet. I finally became willing not to know and allowed myself to be guided and to look within for my own truth instead of seeking gratification and validation externally. I learned spiritual practices and about how the Universe works and how to transform my own life from tragedy to triumph.
These life lessons became the very same heart-centered tools and life skills that I teach young women in my presentations and in my confidence coaching. The challenges teen girls face today often seem insurmountable as they are bombarded daily with negative media messaging that erodes their confidence and chips away at their already fragile sense of self.
You Can't Be It… If You Can't See It
Our girls bear witness to a society of excess and celebrity, and everything they see, thanks to a totally new world of social media, fuels their frenzied quest to be "somebody"  – anybody but who they are. This sets them up for a lifetime of striving for some distorted illusion of perfection while never feeling good enough. And it's not going away! Therefore it is vital to provide our girls with role models and mentors that can show them how to maneuver their way through the minefield of pop culture and how to emerge intact, strong, confident and fully equipped to create a life that they want – not what the media tells them they should want.
I have so much compassion for my clients because I was once "that girl." But I know that within each of us lies the power to emerge, transform, rise up and change the world!
It would be such a privilege to share what I learned the hard way with your girls. I love each and every one of them and our job is to help them love themselves.
My Mother/Daughter programs have received rave reviews from the event planners, the moms and the girls too! These workshops and trainings were birthed  out of the pain of my own mother/daughter relationship and understanding the importance of this sacred bond to help a girl feel confident and to go out into the world and soar. Many of us have simply been misinformed by the misinformed and together we can change all of that.
You can read more about my program by clicking on this link:  Mothers & Daughters: Coming of Age Together.
You have helped me and my daughter so much in such a short time. You've provided us with the tools to use in our daily lives to achieve a positive future. A future that we had always envisioned, both deserve and now have the knowledge and inner strength to obtain. Our relationship is stronger than ever and we communicate on a much deeper and more meaningful level. Thank you for being you and for sharing your gifts and wisdom with us. ~ Mary & Elizabeth  
Kathleen has developed and delivered programs on the topics of self-esteem, leadership, attitude, stress management and the power of choice. She is the author of Girls' Voices… Good Choices, an after-school curriculum for teenage girls. She is the co-author of an anthology book entitled The Burning Heart of a Difference Maker and co-wrote Square Peg Round Hole, a book for pre-teen girls about fitting in and standing out, with body image expert, Dr. Robyn Silverman. Kathleen is also the author of two audio learning programs called Tuning In: Inspiration for Transformation and If You're Happy & You Know It: Feeling Your Way Back to Joy, and is currently writing a book for teen girls entitled The 9 Lives of Kat. Author and producer of a monthly electronic newsletter – Confident Girls… Powerful Women! which goes out to over 2000 subscribers as well as director and producer of her YouTube channel show KatTV.
In 1998, as the host and producer of a year-long cable series The Bright Side, she was awarded the Best Series Award from the New England Women in Cable & Telecommunications. She has been a regular guest appearing on many local shows including Channel 5's Chronicle, and is a consultant and producer of several programs on teen self-esteem. Kathleen has been a guest DJ on GRLZ RADIO and her DJ Kat Confidence Tips continue to air regularly on the station's programming.
Kathleen also speaks to teachers, parents, companies and associations who want a keynote speaker to impact their audience with a message of power and possibilities, delivered with humor and hope for a brighter future. Never has this message been more needed in our world today. Self-mastery lies in the moment we make conscious choice. Kathleen teaches people the tools to discipline and harness the power of our thoughts to move from the outer layers of fear, doubt and worry into a new realm of peace, prosperity and power.
Kathleen has received praise and acclaim from principals, politicians and parents but her greatest honor by far has been the outpouring of admiration from the youth themselves. Here are just two examples:
"You found your place in every girl's heart. You gave us hope that women can reach their goals, and you told us that it was "cool" to be ourselves."
"She talks to us, not at us or down to us. After listening to her, I realized that I am capable of anything as long as I believe in myself."
Booking Information